While I have a ton of COMC fodder to show off on TMM and it'll take me a while to get through all of it, I'll have no such problem over here--one post will do it. Here's a few Tigers I picked up:
Charlie Gehringer 2001 SP Legendary Cuts
I usually show off my
Gehringer
stuff on the other blog since he's one of the most notable Wolverines baseball alumni, but it's not like I'm usually hurting for content over there like I am with this here blog sometimes. So here's the first of three cards I grabbed of the Mechanical Man. It's the first of Charlie's base cards from the amazing SP Legendary Cuts product, in this case from 2001. I believe I now have all of his base issues from those sets, including
2002
,
2003
,
2006
, and
2007
. Out of that group I think this design is my favorite.
Charlie Gehringer 2015 Diamond Kings
Speaking of some classy designs, I think last year's Diamond Kings product looks absolutely amazing. This may be a Gehringer photo that gets used quite often, (hell, the same one's on the next card!) but the design is just too cool, even without logos. I wish I had more PC guys to chase in this set, but maybe I'll pick one up if I can ever find it cheap enough.
Charlie Gehringer 2015 Panini Cooperstown Crown Royale
Panini's Cooperstown from the same year is also a pretty solid set, but better yet is this insert version (which actually isn't a parallel since the photos are completely different). I'm not too surprised they look nice, though, since Crown Royale has a pretty good reputation as far as I'm concerned. These also have some parallels of their own that I might just have to track down.
My Gehringer collection continues to putter along and I now own 27 different cards of the HOFer.
Kirk Gibson 2006 Greats of the Game Tigers Greats
Now that I think about it, this
Gibby
keeps up the classy brands theme--Greats of the Game ranks up there with the best, no question. Fleer tossed Tigers collectors a bone with this 10-card insert set focusing on some notable Detroit players, though for some reason Lou Whitaker got left out; I'm happy Gibson was included, though. The design is kind of fun thanks to the Tiger Stadium shot on the right. By the way, if this card looks a bit familiar, it's because
I have the jersey version
.
Lou Whitaker 1996 Fleer Golden Memories (with Alan Trammell)
And finally, here's a new
Whitaker
for my supercollection of the iconic Tigers 2B. Better yet it's another that pairs him with his partner in the best double-play combo of all time,
Trammell
. Here's a look at the back courtesy of COMC: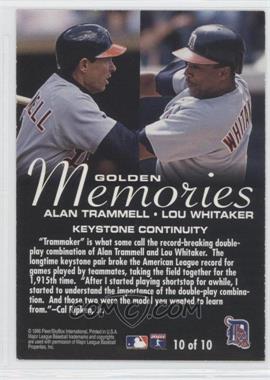 Side note: I don't think anybody around here ever called them "Trammaker." Anyway, this was another fun glossy insert from mid-to-late 90s Fleer, and it's my
233rd of 287 Whitaker cards
(and 247th overall). I don't have any others in-hand right now but hope to have more soon.
With these posted I think I may actually get back to trade posts very soon!