It's been more than 35 years since the '84 Tigers went wire to wire and won it all, and while I was still in diapers when that happened, I love that team and many of its players to this day. That made me think of a fun way to show off another group of Sportlots pickups featuring some of my favorite Tigers PCs.
No, I didn't grab these from Sportlots--they've all been in my collection for years. But a great way to kick things off today is to point out how successful some of Detroit's drafts were in the 70s, with choices that gave the Tigers many of the key players that starred for them the following decade. 1978 Topps just happens to have highlighted most of these guys on its multiplayer prospect cards! Let's take a quick look at some of those drafts before we get to the cards:
1974
: Detroit takes future catcher and slugger
Lance Parrish
at #16 overall. Lance hit more than 200 homers for the Tigers and made six All-Star teams before leaving as a free agent. In '84 he posted a career-best 33 homers, won Gold Glove and Silver Slugger awards, and chipped in two homers and five RBI in the postseason. By the way, the 10th round of this draft saw the Tigers select a high school pitcher named Mark Fidrych.
1975
: OF Jason Thompson was Detroit's 4th-rounder and he went on to a decent career, though he was gone before '84. A guy who did stick around, for 19 seasons, was 2B
Lou Whitaker
, selected one round later. The should-be HOFer formed an iconic double play pairing with SS Alan Trammell, won the 1978 AL ROY, and was an All-Star from 1983-87. In 1984 he matched Parrish's feat, winning his second Gold Glove and Silver Slugger, and in the playoffs he accounted for nine runs, six of them in the World Series, serving as a reliable table-setter.
1976
: Detroit's most successful draft included a second round SS from San Diego named
Alan Trammell
, whose 20 years in Detroit were finally recognized by HOF voters. Six All-Star appearances, four Gold Gloves, three Silver Sluggers, and the left half of one of the best double play pairs of all time will do that. So will posting one of your career best regular seasons before going off in the playoffs for 13 hits, 3 HR, 7 R, and 9 RBI on your way to being named MVP of the World Series.
A couple rounds later the Tigers selected another high school pitcher from California, righty Dan Petry, who'd be a reliable part of the '84 rotation along with the ace they took next, BYU righty
Jack Morris
. Morris won nearly 200 games for Detroit, and in 1984 he went off for 19 victories, including a memorable no-hitter, then won all three of his postseason starts, including two complete games in the main event. He padded his HOF resume with rings in '91 and '92, with the former being considered one of the greatest performances in the history of the game.
Oh yeah, and two rounds later Detroit selected another SS (its third of four in eight rounds) out of Cal-Poly named Ozzie Smith. He wouldn't sign and was instead chosen by the Padres in the fourth round the next year. I wonder whatever happened to him?
1978
: The final piece of the puzzle wasn't pictured with the guys above because he was drafted the same year those cards were made. Detroit used the 12th overall pick this year on Michigan State baseball/football star
Kirk Gibson
, and he rewarded the team with some outstanding play in the mid-80s, with 1984 the start of a nice five-year run that culminated in one of the greatest World Series homers ever. But first he would be named MVP of the '84 ALCS against the Royals, then pop a pair of long balls ("He don't wanna walk you! He don't wanna walk you!") in the game 5 clincher.
So as you can see, four drafts in a five year span in the 70s were the key to Detroit winning it all 35 years ago. Now let's look at some new cards of that talented core:
These three players only had one or two cards each so we'll get to them first. Both
Gibby
items are of him as a Dodger, but that's cool given how iconic his '88 game 1 homer was. Up top is the gorgeous 2002 Topps Tribute (a base card, if you can believe it) while a 2002 Fleer Fall Classics insert called Series of Champions sits below. I definitely need more of the older Topps Tribute in my life.
I repeated the vertical/horizontal pairing with
Tram
. Both hail from 2005 Donruss brands with the top being a Donruss Greats Souvenirs insert and the bottom being the first of his two base appearances in Donruss Champions (#204). I'm not sure why they made non-relic versions of the Souvenirs card since the name makes less sense without one, but whatever.
Sweet Lou is one of my supercollections, so I was glad to notice at some point that his 1986 Sportflics Decade Greats appearance wasn't on my checklist.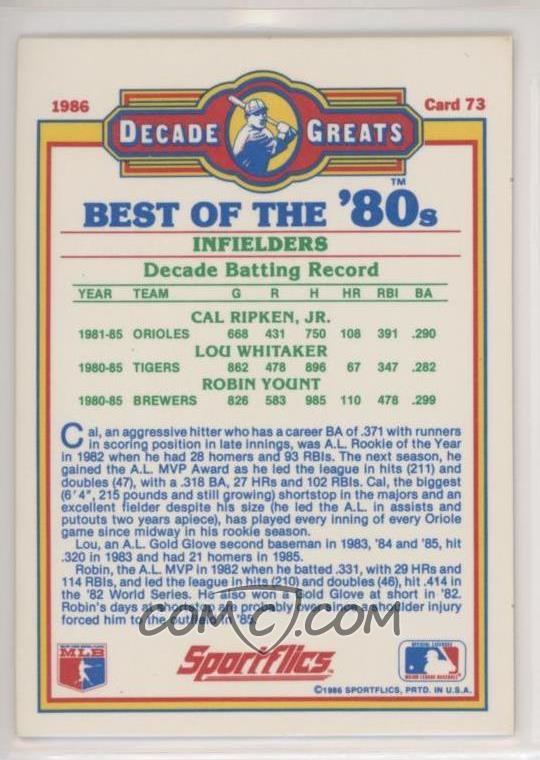 I was able to fix that and pick up the card, which he shares with
Cal Ripken Jr.
and Robin Yount in the infielders group of "Best of the '80s." What a fun set! A smiling Yount is the easiest to see in my scan but you can also make out Lou in the field, but not a sleepy Cal in the dugout.
While those three guys have player collections and albums here, I haven't done the same for the other two because I don't chase them as much, so it was easier tracking down new stuff I was interested in. One of those players was
Morris
, whom I managed to get over the century mark (107 cards) thanks to this purchase.
You know I love me some Sportflics--I think I scored 12 total this time--so I was thrilled to find four cards starring Jack: two from '86 and one each from the following two years. Nolan Ryan graces the second card which highlights three players with no-hitters: Morris' from '84, Ryan's four up to that point, and Dave Righetti's from 1983.
With the stuff made during his career out of the way the rest are a nice mix of sets that focus on or include retired players: 2001 Topps American Pie, 2003 and 2004 Donruss Team Heroes, 2004 Absolute Memorabilia (the rainbow foil hobby version, numbered to 1349), and 2004 Fleer Greats of the Game. Go ahead, pick your favorite Fleer Greats/Greats of the Game design, there's no wrong answer!
The rest of the Morris stuff includes four cards from 2005 Diamond Kings: base, Black and White parallel, Gallery of Stars, and Heritage Collection. Like Fleer Greats you'd be hard pressed to find a bad DK design! Speaking of Greats, I found Morris' card from my favorite version--the 2000 product that was the first "Fleer Greats of the Game" after the name was used in a Sports Illustrated set in '99. The last base card is the only one today of Jack with a different team, 2005 UD Classics. And the other two you see here are from Panini's 2013 Pinnacle Awaiting the Call insert--regular and Die-Cut--which I appreciate more now that Morris and Tram are no longer "awaiting" anything!
Last up today is
Parrish
, whose five new cards are a mix of big and small. On the larger end are Donruss Action All-Stars jumbos from 1983 and '85, skirting the year I'm highlighting today. Then again, they present stats from the previous year and earlier, so it ends up working out quite nicely. Lance made the AL All-Star team in 1980 and '82-'86, and in '84 he joined Whitaker, Chet Lemon, Tram, Morris, and Guillermo Hernandez in repping the Tigers.
The other trio brings back Sportflics one more time, one from 1986 and two that were made the following year. The second from the latter is a "Best in Baseball" subset offering that highlights catchers in the AL, which also includes Don Slaught (with the Rangers at the time, though I remember him more with the Pirates) and the Red Sox's Rich Gedman. I could have added one or two more Sportflics cards of Parrish but stuck with the ones of him as a Tiger, at least for now.
That's it for the '84 Tigers this time, but I still have four more posts left that'll celebrate some more Tigers favorites!