With this final post from my latest COMC package it's time to end this series once again. Yesterday
I showed off some red, white, and especially blue Wolverines cards on TMM
and now I present the big finish I've been teasing over here: some outstanding
Greg Maddux
inserts! You got to see some really nice stuff from several of my PCs but in my opinion the best quantity of quality this time was the HOF pitcher for the Cubs and Braves. I happily plunked down more COMC credit than I usually do because I was hitting some of my most-wanted inserts while getting introduced to some new favorites.
Take a gander at these Gregs and be amazed!:
Only one card in and I'm already busting out the "90s inserts rule" tag. 1996 Leaf Preferred's Staremaster (#0776/2500) is one of my favorite offerings from that brand, one for which I bought a box at a card shop that no longer exists very close to my childhood home. The punny title (one of two today!) belies a great design, and the print run of 2500 was quite low for the time, making these very desirable pulls.
Card #2 hearkens back to
the Gwynn post
as we get a second entry from 1996 Ultra's Season Crowns insert in the form of this Maddux issue. The card notes that after the '95 season he was celebrating leading the NL with 19 wins and a paltry 1.63 ERA (his third straight crown in that stat). For as nice as these acetate-like cards look they're fairly cheap on COMC so check them out!
Then we move on to another favorite: 1998 Leaf Heading For the Hall (#1049/3500). This is another insert with a cool rainbow foil design and great player selection, as you'd expect. Of the 20-card checklist only Albert Belle (fairly understandable at the time), Kenny Lofton (who knows?) and PED guys Bonds/Clemens/Juan Gonzalez/McGwire haven't made it yet. As for my collection I'm still searching for the Griffey and Ripken issues having already added the Gwynn and Larkin.
This 1999 trio starts strong and finishes well too. Up first is one of my top inserts from one of Pacific's best products: Paramount Fielder's Choice. I busted a cheap box of that set way back in the day and pulled some great stuff including a numbered Griffey and a Derek Jeter from this glove-centric chase set, and now I'm happy to have the Maddux in-hand. As I've said numerous times the 18-time(!) Gold Glover belongs first and foremost in these sets, especially one of this quality where the die-cutting extends to the webbing of the glove. Just a kick-ass card!
The next offering is one of the lower-end cards you'll see today but still a solid one. Stadium Club's inserts were better than flagship's more than 90% of the time and this Never Compromise card is a good example. It's a nice shot of the master of his craft.
Last up in '99 is another card that brings us back to the Gwynn post, a 1999 Topps Chrome Lords of the Diamond. For as cheap as these are they're fun pickups, and I may turn my attention to the Refractor versions in the future.
Now this might be my favorite trio in the whole series. It begins with one last insert you previously saw in the Gwynn recap, 2000 E-X E-Xceptional Red (#0903/1999). These cards and their various iterations over the years (and several sports) definitely belong in a top 10, something I should make a personal list of at some point. Maybe someday I'll track down the Griffey and Ripken cards, and if I'm feeling particularly adventurous I'll look for the other colors as well!
2000 Fleer Showcase's Consummate Prose is up next, and that's today's other set with a punny title. The homonym "pros" would of course work just as well for an MLBer like Maddux, but the writing on the back justifies the title: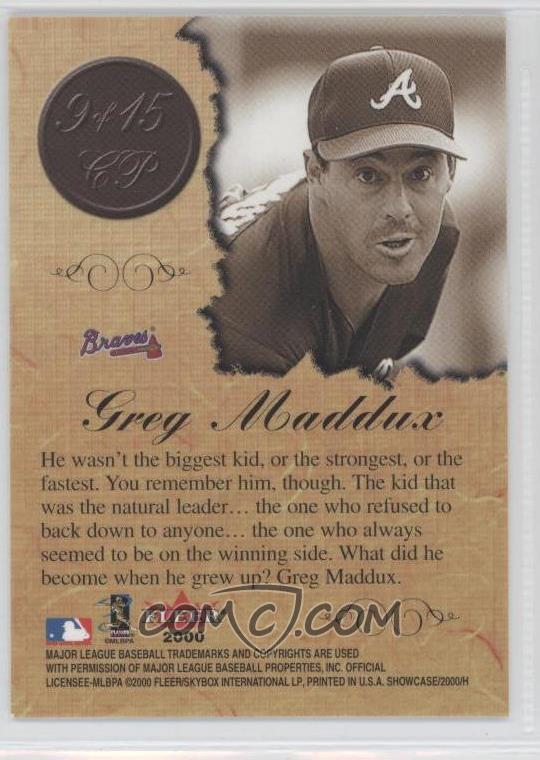 And last in this group is another top 10 card in the entire package. I love scanning for my PC guys and coming up with new designs I've never seen before like the 2003 Playoff Prestige Inside the Numbers (#1595/2002) card you see above. Once again it's acetate, so it's already got that going for it, and the gradient of the Braves uniform colors works beautifully with the photo on this design. Maddux's 2.62 ERA in 2002 didn't lead the league but it was the 9th time in his career with a sub-3.00 ERA. Yeah, you could say he was as good at pitching as he was with the glove, I suppose.
And now we reach the final group of verticals (sort of). First up is Maddux's solo appearance on Donruss's well-known Passing the Torch insert, in this case from 2004 Elite (#0968/1000). Go on and take a wild guess who he's paired up with on the two-player card. Hint: it's 2004. That's right, pre-injury
Mark Prior
, who put up 7.4 bWAR with an 18-6 record over an All-Star 2003 campaign. Man, what could have been....
What was, at least, was the 1995 Braves, the only Atlanta team to win it all over that multitude of playoff appearances and pennants. Donruss' 2005 Throwback Threads honors part of the core of those teams with this Dynasty card that co-stars HOFer Chipper Jones and slugger David Justice. Those teams were a ton of fun to watch and I wonder if the Baby Braves are on their way back to that kind of relevance once again.
Also hailing from 2005 Throwback Threads is the last insert in this group, a three-player Generations insert. You previously saw a card from that set in
my most recent post
, one that includes PC guy Barry Larkin along with HOFer Ozzie Smith and one-time top prospect B.J. Upton. Thanks to Jack Morris' election this year this card that also includes longtime Giant (among nine total teams) Gaylord Perry is 100% Hall of Fame certified. Not a bad group at all!
And now we've almost reached the end, but first there's a couple horizontal cards to show off. First is a Bound for Glory insert from what's probably my favorite iteration of Upper Deck's SPx product, the debut 1996 edition. These cards aren't crazy expensive now but they still look cool to me more than 20 years later, and this one even surprised me by scanning better than I thought it would!
Joining that is another lower-end insert that still interested me enough to toss it in my cart. Found in 2007 Fleer Crowning Achievement, it highlights the 18th and final team in Maddux's career that he reached the 15-win mark after setting a record by achieving the feat in 17 straight campaigns. In fact he missed out on a run of 19 by two wins in 2005, then put up another 14 in 2007. That record-setting run is one of the many reasons I continue to collect Maddux to this day.
Well that was a pretty nice bunch, but I'm happy to report that I'm not quite done yet. See, I discovered another insert set I wasn't previously familiar with, and when I came upon Maddux's cards (yes, cards), I went whole hog and grabbed them all:
This here is Greg's quartet from Donruss's 2005 Zenith Spellbound insert, a group that spells out his first name. My only PC guy in the bunch represents the first four cards in the insert because he's just that awesome, and these make for a fun non-relic nameplate. It certainly doesn't hurt that these feature Pinnacle's trademark dufex look, does it?
I have to say that was a fun end to another nice run of quality stuff from COMC. I'm not sure when I'll have stuff from there to show off again--maybe after Black Friday?--but I'm already looking forward to filling out another great package.
Next up I have a surprise trade package, a possible show recap, and once everything is in-hand and ready, another huge Sportlots run. I'm also about to hit a huge milestone in my Michigan collection and will be sharing that on TMM so watch for all of that soon!