If you liked my Ripken COMC pickups post from last Sunday then I'm pretty sure you'll be excited to check out today's starring Mr. Padre,
Tony Gwynn
. There's plenty more "90s inserts rule" where that came from! Speaking of which,
please head over to TMM this afternoon for more insert fun of the football variety
.
We'll start all the way back in 1996 with one of my all-time favorite inserts, Studio's Masterstrokes (#1460/5000). It's simply a gorgeous design, a true work of art. I just need Maddux's card for the Griffey/Gwynn/Maddux/Ripken quartet.
Sticking with 1996 we have Ultra's Season Crowns, an acetate-type card that's totally different from the rest of that product's usual inserts. Naturally this one highlights Gwynn's many batting titles.
Then we jump forward a year to 1999 and Topps Chrome's Lords of the Diamond, a Chrome version of a fun die-cut insert found in that year's flagship, back when the brand's inserts weren't the same old cookie cutter crap they are today. There are, of course, Refractor parallels to these, and those look great as well.
Probably the coolest card in the whole post is up next, the die-cut/holographic 2000 E-X E-Xceptional Red (#0886/1999). I believe this design first gained popularity in the basketball world with the brand's Jambalaya insert a few years earlier, and I'm glad that Fleer let baseball fans get in on the fun as well. These look ridiculously awesome in person and also come in rarer Green and Blue versions. Hopefully I can lock down my favorite PC quartet at some point!
Speaking of hologram-style cards, after finding
Maddux's version
earlier this year I tracked down Tony's 2003 Diamond Kings DK Evolution entry this time. Who knew that Diamond Kings plus holograms would be a winning combination?
This pair finishes up the vertical cards. Note: if your phone videos look like this, turn your camera 90 degrees, idiot!
First is a 2005 Donruss '85 Reprint (#1974/1985) of Gwynn's card from 20 years earlier. I tend to chase the Diamond King and rookie reprints more often but this one looked fun, and I tend to like cards numbered to a year.
And then getting back to the acetate celebration I grabbed Tony's 2013 Pinnacle Essence of the Game issue, a card that recognizes him as a local boy who spent his entire career in San Diego. That Pinnacle product offered a number of clear inserts that look great, giving me a few ideas of what to track down next time I'm putting together a package.
Turning things 90 degrees (like a properly recorded video) we'll first travel all the way back to 1996 again, returning to Donruss' fantastic Studio product from that year. Another amazing insert they included was called Hit Parade (#3444/5000), with the last third of the card die-cut and designed to look a record. If that isn't apropos of his generation's greatest hitter I don't know what is! Check out the back to see just how great Gwynn was in certain situations: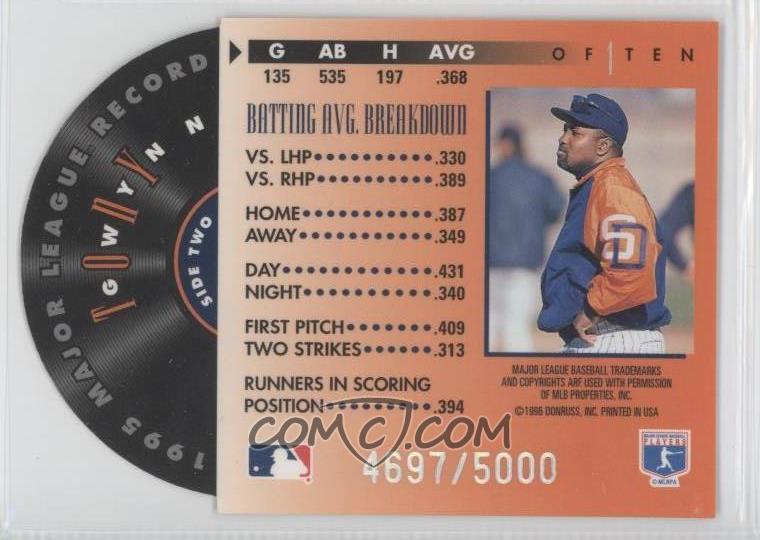 The next card hails from a product I know very well having busted multiple boxes of it when it came out. 2000 Fleer Tradition's Hall's Well may have a punny title but the design is all business. It's die-cut, partly see-through, and colorful to boot. Of course, seven years after this card was produced Tony took his rightful place in Cooperstown.
And we'll close things out today with this final pair. First is an insert called Winning Combinations from 2001 Fleer Platinum (#0906/2000). Gwynn is paired here with another well-known Padre, Dave Winfield, who spent his first eight seasons with that club, though his tenure there never coincided with Tony. Gwynn appears on two other cards in this set and is paired with Cal Ripken Jr. (his fellow 2007 HOF inductee) and Ty Cobb.
And finally, you're not experiencing deja vu--this 2001 Ultra Greatest Hits is very similar to the Hit Parade card you just saw. This one has a very similar theme, updating the look to a CD instead of a record, and offering a couple cringe-inducing song titles. Not as cool as the Studio card but much cheaper and fun in its own way, this was an easy addition.
Stay tuned for two more COMC recap posts starring my Michigan Baseball PC guys and one of my bigger PCs with some of the biggest and best cards yet!