Previously:
1. Refractors
,
2. Thinking outside the box
Today the term "rookie card" means a lot of things to a lot of different people. Even though the insane quantity of manufacturers and brands has dwindled to its current state of affairs, lots and lots of cards are pumped out every year. And with prospects being such a huge part of the hobby, quite a few players are featured on a relatively large number of issues as they make their way up to the big leagues. Those rookie cards can be as simple as base cards, or include serial-numbering, relics, autographs, all of the above, and more. And that's not taking into account any releases from earlier or future years, which makes a player's "true" RC open to debate. Truly, MLB's "Rookie Card" logo has done nothing to simplify the identification process, a problem exacerbated especially by Topps' Bowman brand.
All that said, things didn't used to be quite so complicated. Even as late as the early 90s it was a lot easier to peg certain cards, even from multiple brands, as true RCs. And among those brands, of course the most traditional and well-respected was Topps. Much of that brand-name recognition was due to the absence of competition for years, granted, but for a long time, Topps was at the top of the game when it came to producing rookie cards of the most promising (and otherwise) young players.
As would be expected, these cards came in several different designs, though most commonly a player's Topps RC would be a simple base card featuring just that player. However, Topps also established a tradition of grouping prospects, in pairs, trios, or even quartets, sometimes by team or position, or just randomly. And from this design tradition Topps produced some of my all-time favorite rookies (and occasionally second-year cards). I can't describe exactly why, but sometimes it's more fun getting an all-star or Hall-of-Famer paired up on a card with a future bust (as long as autographs aren't involved!), and there's also some instances where more than one of the card's rookies go on to fantastic careers.
So with all that in mind, here are a few of my favorite Topps multiplayer RCs that reside in my PC:
Set: 1978 Topps
Who: Alan Trammell and Paul Molitor
Why: 1978 was unquestionably the pinnacle of the Topps four-player rookie card. The absolutely nailed this one by pairing future-HOFer Molitor with Tigers legend Alan Trammell. I've always considered the four-player cards my favorites anyway since it increases the likelihood that one or more of the players will look completely out-of-place in hindsight. By the way, I covered the other cards in this legendary Tigers bumper crop of rookies here (just so you don't wonder why I didn't include them in this post).
Set: 1963 Topps
Who: Bill Freehan
Why: Well for starters, the floating head thing is hilarious. Secondly, this is pretty much a random group of prospects, because that's what Topps said you were gonna get that year. But mostly I love this card because it's Freehan's RC. I was disappointed when Topps made ill-advised adjustments to cards like this when including them in modern reprint sets like Archives. The end result is something that looks like this, which is just goofy. Why not produce single-signed autos of the featured player and then try to get a limited number of copies of the card signed by all four? But I digress.
Set: 1982 Topps
Who: Cal Ripken Jr.
Why: Come on, everybody knows the story behind this one! People still speak ironically about it being Bob Bonner's or Jeff Schneider's RC. At least Bonner was a recent draft choice by the O's; Schneider was actually signed by Philly as a free agent in 1974, and was 30 when this set came out! By the way, interesting note: the Orioles sent Schneider and Doug DeCinces to California for "Disco" Dan Ford. The things you learn on baseball-reference.com!
Set: 1972 Topps
Who: Carlton Fisk and Cecil Cooper
Why: Obviously Fisk went on to an acclaimed Hall-of-Fame career, but Cooper, the featured player on this card, had a pretty nice career himself, which included five All-Star appearances, three Silver Sluggers, two Gold Gloves, and a pair of World Series appearances. That baseball-reference finds his #1 player comparison to be Don Mattingly says a lot about the quality of his career. That adds to the quality of what will still always be known as Pudge's RC. Oh, and Mike Garman was a former first-rounder who eked out a nine-year career, so he wasn't awful either!
Set: 1975 Topps
Who: Gary Carter
Why: The Kid went on to a special career that saw him enshrined in the Hall of Fame before his untimely death. 1975 is a very popular set not only because of the quality of the players and RCs, but because of its vibrant design. And the Minis, of course. I also like this one because it also includes a pair of Tigers, including former Wolverine Leon "Don't Confuse Me With Bip" Roberts.
Set: 1968 Topps
Who: Johnny Bench
Why: Oh, I dunno, I mean he was a pretty good catcher, right? I absolutely love the shot of Mr. "No Runs, No Drips, No Errors" wearing the backwards pinstriped Reds hat. Tompkins, meanwhile, was such a star that he later was included in two "unknown" deals, according to the very comprehensive baseball-reference.
Set: 1975 Topps
Who: Keith Hernandez and Phil Garner
Why: Mex did just fine for a former 42nd-rounder, eh? As the owner of an MVP and batting title, plus two World Series rings, he'd fit right in if this was a "future stars" subset instead of just "rookies." Garner did pretty well too, first as a player for 16 seasons, then managing for another 15, including leading the Astros to the 2005 Pennant. His tenure with the Tigers was pretty forgettable, but then again, what wasn't in the early 2000s? I also like that we got another Tiger on this card.
Set: 1981 Topps
Who: Mike Scioscia and Fernando Valenzuela
Why: Since every other card blogger out there is a Dodgers fan (hey, at least it's not the Yankees!) this one makes a lot of appearances around the interwebs. I'm sure a lot of people focus on this card as the RC of Mr. Fernandomania, the man who breathed through his eyelids, and to a degree that's fair since he enjoyed a distinguished 17-year career. For my part, though, I've always focused on it more as the RC of Dodgers stalwart catcher and future Angels manager Mike Scioscia. He was a former first-rounder and 13-season lifer with the club, and he's since gone on to a memorable career managing the Halos, winning almost 1200 games so far in 13+ seasons, plus shocking Barry Bonds' Giants in 2002. When you combine those two, that's a fantastic pair!
Those are just a few highlights in my collection, but I also want to leave you readers with a few more famous examples that highlight just how cool these cards were and are: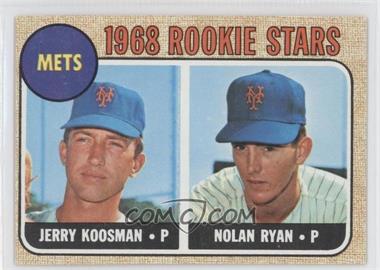 From COMC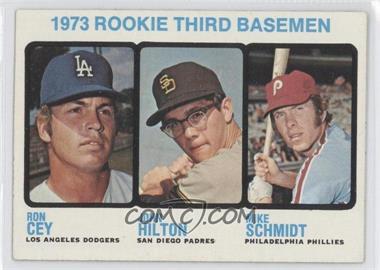 From COMC