I'm currently awaiting my end of a pair of TCDB trades, currently sitting on "In transit, arriving late" and "Delivery date unknown" statuses, but that doesn't mean I'm being deprived of cards in my mailbox. Not if
Brad of Brad's Blog
has anything to say about it! The Phillies collector/Ryan Howard supercollector surprised me with a mailer that arrived yesterday, one that was both beneficial to one of my PCs
and
easy to scan:
I've long since stopped naming my trade posts, opting to stick with just the blog/sender name, but if I hadn't, I'd probably call this one "two (of) many Verlanders." Eh? Eh? This is quite the pair of cards of the pride of Manikin Sabot, Virginia, and Goochland High, Justin Verlander. Hailing from approximately opposite ends of his career we get to see young and old versions of Mr. Kate Upton.
#1 is a 2005 Bowman Draft Gold parallel, which would have come out after his RC-not-(RC) from the regular Bowman set (which I still need!). I like that the Team USA jerseys kind of ended up being Tigers colors back then. In this case "back then" was
2003
, when the collegiate team participated in series with Japan, Mexico, and a couple tours, then competed in the Pan American Games. Verlander has had the best career of
that roster
, which included fellow stars Dustin Pedroia, Huston Street, and Jered Weaver, plus future busts Jeff Larish (Tigers) and Jeff Clement (Mariners). By my count 10 of the 20 team members were selected in the first or second rounds in the '04 and '05 drafts, so it was a pretty good group. Anyway, it's a nice parallel of one of JV's earliest mainstream cards.
Today's other contender may look like a regular 2018 Topps base appearance, but what if I told you his actual "regular 2018 Topps base appearance" looks like this?: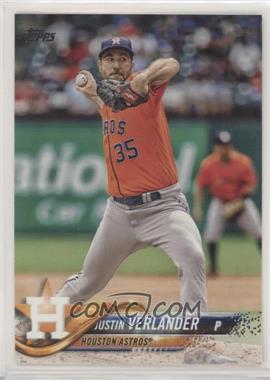 (I had to grab that image from COMC--I don't actually have this one yet somehow!) I couldn't say for sure before looking it up, but given how nice #1 was, I had a feeling Brad had sent me a short print, and that hunch proved to be correct. This horizontal issue with JV celebrating with his (new) teammates is the "SP" version with an even rarer SSP available to boot. I think I may have just one other JV SP, whose cards still sell quite well, so this was another generous offering by Brad.
Thanks again for a fun surprise envelope as I was anxiously awaiting a couple other packages, Brad! These are excellent additions to my Verlander collection, and as the name implies, I can't have too many. While I don't have more than a couple things set aside for you at the moment, I'll work on a response to send back your way whenever I can!