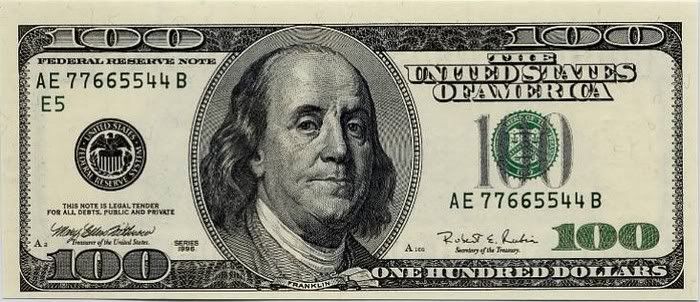 Justin is worth a whole lot of these
Happy 100th career win to Justin Verlander, who's enjoying a magical 2011 season as the AL's best pitcher who also happened to throw his second no-hitter. #100 was a must-win over the division rival Indians in Cleveland as Justin earned his 17th by going seven innings with 10 strikeouts, the 9th time this season he's piled up nine or more according to Tigers color man Rod Allen.
Justin's first career victory came against the Rangers in Arlington on April 8, 2006, a game in which he struck out seven and threw seven scoreless innings in an eventual 1-0 affair. He would finish 17-9 that year, enough to garner the AL Rookie of the Year award. That amazing season culminated in a World Series appearance, though the Tigers would be overpowered by the Cardinals in five.
2007 proved to be even better in terms of statistics for Justin as he went 18-6 and K'ed 183. Various issues caused him to drop off a bit the following year when he went a career-worst 11-17 with his only 4+ ERA. He followed that season with a major bounce-back effort, going 19-9 with 269 strikeouts for the 2009 Tigers. 2010 saw just slightly worse numbers when he went 18-9 with 219 Ks.
2011 is looking even more promising for the Tigers' unquestioned ace. After tonight's performance, he stands at a 17-5 record and 193 strikeouts. 20 wins for the first time in his career looks like a good bet, and, who knows, maybe the Tigers won't Leyland themselves into another playoffless season. Should the Tigers make it, Verlander has the drive and experience to take the team deep into the postseason. Even if they don't, he's probably the odds-on favorite to win his first (of several, I'm sure) Cy Young award.
100+ wins in your first six full seasons is an outstanding way to start a bright (and still very young) pitching career. Here's to many more for JV, a stud pitcher the Tigers wisely locked up for years to come!
Ok, that's all of them!